Come and discover our new chef and his new menu
Thoughtful between the sea and the mountains, punctuated by the calendar of seasonal fruits and vegetables, the Chef composes a menu that respects nature and highlights the fresh products of the region.
We look forward to seeing you.
See you soon!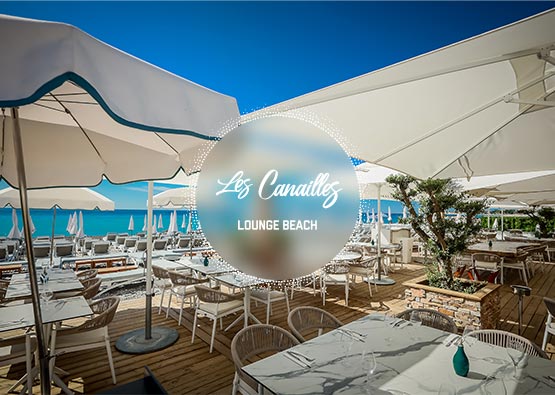 SALADE LES CANAILLES DANS L'ESPRIT D'UNE SALADE NIÇOISE

Les Canailles salad in the Nicoise Spiirit

BURRATA CRÉMEUSE, MANGUE, PESTO ET FOCACCIA

Creamy burrata, mango, pesto and focaccia

ASSIETTE DE CHARCUTERIE ITALIENNE

Italian delicatessen platter
TARTARE DE THON, TERIYAKI MAISON ET FRAISE, CAVIAR DE MASAGO

Tuna tartar, homemade teriyaki and trawberry, masago caviar

TIRADITO DE SAUMON AUX FRUITS DE LA PASSION, PATATE DOUCE EN DEUX TEXTURES

Salmon tiradito with passion fruit, mashed and fried sweet potato

CEVICHÉ DE LOUP, LECHE DE TIGRE AU LULO ET MAÏS CANJA

Sea bass ceviche, Lulo tiger milk and Canja corn

CHIRASHI NIKKEI, ANTICUCHO DE SAUMON GRILLÉ ET SASHIMI, MANGUE, AVOCAT, POMME VERTE ET GRENADE (POKE BOWL)

Chirashi nikkei, grilled salmon anticucho, mango, avocado, green apple and pomegranate
CALIFORNIA CRISPY, CRÈME CHEESE AU WASABI ET GRENADE

California crispy, wasabi cream cheese and pomegranate

CALIFORNIA VEGGIE, TARTARE DE FRUITS ET ALGUES DE NORI

California veggie, fruit tartare and nori seaweed

CALIFORNIA CRISPY, POULPE, GUACAMOLE ET PISTACHE

California crispy, octopus, guacamole and pistachio

CALIFORNIA CRISPY, TARTARE DE SAUMON ET CRÈME D'AJI AMARILLO

California crispy, salmon tartare and yellow d'Aji

CALIFORNIA ROLL DE TOURTEAUX, FRUITS ET FIBRE AU BASILIC

California roll of crab, fruit and basil
Poissons / Main fish Courses
TENTACULES DE POULPE POÊLÉES AUX PISTACHES, SABAYON AU PAPRIKA FUMÉ, POMME GRENAILLE

Octopus tentacle with pistachios, smoked paprika sabayon sauce, pomegranate

CABLLAUD AU MISO CUIT EN FEUILLE DE BANANIER, PATATE DOUCE RÔTIE ET LAIT DE COCO AU CITRON VERT

Cod with miso cooked in a banana leaf, roasted potato and lime coconut milk

LES GAMBAS FONT LEUR SHOW, SALADE ASIATIQUE ET GAMBAS AU SATÉ FLAMBÉ AU BASILIC

The prawns make their show, Asian salad and flamed satay prawns and basil

DORADE GRILLÉE FLAMBÉE AU THYM, POMME PURÉE AU GINGEMBRE ET CITRONNELLE, SAUCE PICO DE GALLO

Grilled sea bream flamed with thyme, mash potatoes with ginger and lemongrass, pico de gallo sauce
Pates et risotto / Home made pasta and risotto
LINGUINE COURGETTE ET BASILIC, RÂPPÉ DE TRUFFE D'ÉTÉ

Linguine zucchini and basil, rapped with truffle

LINGUINE AU HOMARD, TOMATE CONFITE ET BASILIC

Linguine with lobster, candied tomato and basil
Viandes / Main meat courses
BAGEL BURGER AU PROVOLONE, BARBECUE MAISON OIGNONS CONFITS ET BACON CRISPY

Bagel burger with provolone cheese, homemade barbecue, candied onions and crispy bacon

TARTARE DE BOEUF À L'ITALIENNE FRITES FRAÎCHES

Italian beef tartare anf French fries

QUASI DE VEAU CUIT À JUSTE CUISSON, COURGETTES GRILLÉES, TOMATES CONFITES ET TRUFFE

Almost coocked veal, grilled zucchini, confit tomato and truffle

CHURRASCO BRÉSILIEN AUX SAVEURS NIKKEI

Brazilian churrasco with nikkei flavor

FILET DE BOEUF GRILLÉ, SAUCE RIVIERA, POMME PURÉE À LA CITRONNELLE ET GINGEMBRE

Grilled filet beef, riviera sauce, mash potatoes with lemongrass and ginger
Accompagnements / Slide dishes
Roasted granulated potato

POMME PURÉE COMME À LA CARTE

Mash potatoes with ginger and lemongrass
CRUMBLE AUX FRUITS SECS, GANACHE MONTÉE THÉ VERT, FRAMBOISE ET TUILE CRAQUANTE

Dried fruit crumble, green tea whipped ganache, raspberry and crunchy tile

SABLÉ BRETON, CRÈME DE MOUSSELINE AU BASILIC ET FRAISES FRAÎCHES

Breton shortbread, basil and fresh strawberry cream

TARTE AUX TROIS CITRONS, MERINGUE LÉGÈRE AU CITRON

Three lemon pie, light lemon meringue

ASSIETTE DE FRUITS FRAIS DE SAISON SEUL OU À PARTAGER

Fresh fruit platter

MOELLEUX AU CHOCOLAT GUANAJA 70% CRÈME ANGLAISE AUX FRUITS DE LA PASSION

Guanaja chocolate fondant with passion fruit custard
1 BOULE - 2 BOULES - 3 BOULES

Vanille, Chocolat, Café, Passion, Citron / Vanilla, Chocolate, Coffee, Passion Fruit, Lemon